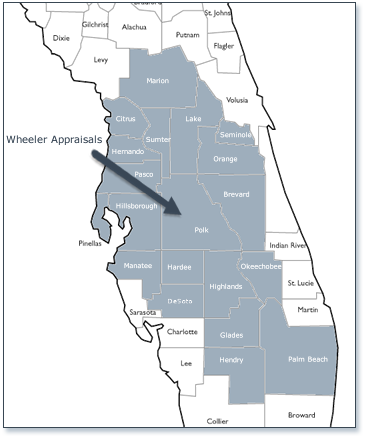 Wheeler Appraisals has 30 years of experience appraisal practice covering most commercial, land, and residential types.
Curt Wheeler, MAI provides commercial real estate and land real estate appraisal services throughout interior central Florida. Bill Wheeler provides individual residential appraisal assignments throughout Polk County.
Commercial and land assignments are available throughout Central Florida. Assignments have been completed in each of the counties on the map, and include:
$25 million apartment assignment in Palm Beach County,
$30 million shopping center portfolio in Hillsborough and Polk Counties,
125-parcel right-of-way consultation ranking five alignments,
100+ parcel pipeline right-of-way assignment,
Triple net lease assignments for national franchise restaurants and retailers,
Land and agriculture (including citrus, berries, pasture, residential, and speculative land properties),
Motels (ranging from a mom & pop prostitution operation forfeited to law enforcement to a proposed Hampton Inn in an upscale retail lifestyle center), and
A multitude of general office, warehouse, apartment, and retail assignments.